DEPARTMENT OF INFORMATION SYSTEMS STUDENTS LEARN IN THIS SPECIALTY ALL RESPECT TO THE INFORMATION COLLECTION AND STORAGE, PROCESSING AND TRANSPORTATION BETWEEN THE INSTITUTIONS TO PRODUCE THE DATA. THIS SPECIALIZATION FOCUSES ON THE INFORMATION IN THE FIELD OF BUSINESS ADMINISTRATION AND MANAGEMENT DECISION. WHERE INTERESTED IN INFORMATION SYSTEMS THAT CONTRIBUTE TO PROBLEM SOLVING USING COMPUTERS IN BUSINESS MANAGEMENT PROCESSES TO
GET INFORMATION THAT WILL HELP IN THE DECISION. AS STUDENTS STUDY IN THIS SPECIALIZATION THE BASICS OF SOFTWARE DEVELOPMENT AND BUSINESS MANAGEMENT APPLICATIONS MANAGEMENT DECISION, AND DATABASE MANAGEMENT. AND STUDENTS LEARN HOW TO INTEGRATE TECHNOLOGY INTO THE BUSINESS BY PLANNING, SYSTEMS ANALYSIS, DESIGN AND DEVELOPMENT OF SOFTWARE APPLICATIONS AND SUPPORT USERS OF THE SYSTEM, AS STUDENTS GAIN KNOWLEDGE ABOUT GENERAL IDEAS FOR BUSINESS MANAGEMENT. THE AREAS OF WORK FOR THIS SPECIALIZATION ARE IN DIFFERENT BUSINESS SECTORS, SUCH AS SYSTEMS ANALYSIS AND DESIGN, APPLICATION PROGRAMMING IN COMPANIES, HOSPITALS, GOVERNMENT BUSINESS, MARKETING, SALES, BUSINESS ADVISORY.
The goal of the unit is also to remove barriers for faculty who are interested in using information technology for their teaching, by giving faculty members the basic know how to set up course sites.
VISION OF INFORMATION SYSTEMS DEPARTMENT
Graduating able to integrate technology in the business sector by planning, systems analysis, design and development of software applications and support users of the system.
STUFF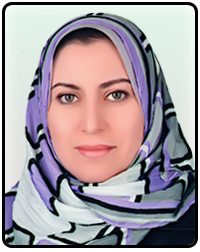 Assis Professor. Noha EL Desoki Salih Hikal
Assis Professor of Information Technology
HEAD OF THE INFORMATION Technology DEPARTMENT
| No. | Name | Department | Abstracts |
| --- | --- | --- | --- |
| 1 | Ahmed Atwan Mohamed Abdo | Information Technology | - |
| 2 | Eman Mohamed El Daidamouny Abdo | Information Technology | - |
| 3 | Noha Ahmed El Dosouky Saleh Hekal | Information Technology | - |
| 4 | Mohamed Mahfouz Mohamed El Mogy | Information Technology | 14 |
| 5 | Osama Mahmoud El Sayed El Sayed Ouda | Information Technology | - |
| 6 | walid mohamed bahgat mohamed | Information Technology | - |
| 7 | Nagham Elsayed Ahmed Mahmoud | Information Technology | - |
| 8 | Mervat Moustafa Fahmy Abou El Kheir | Information Technology | - |
| 9 | Heba El Sayed Mohamed Kandel | Information Technology | - |
| 10 | Nehal Ahmed Mohamed Mohamed Ahmed Sakr | Information Technology | - |
| 11 | Moustafa Mahmoud Mohamed Ahmed El Gayar | Information Technology | - |
| 12 | Fatma El Zahraa Ahmed Abd El Ghany Mohamed | Information Technology | - |
| 13 | Noha Saoud Aly Fayed | Information Technology | - |
| 14 | Hala Ahmed Ali Okasha | Information Technology | - |
| 15 | Ahmed Mohammed Abdul Hamid Elzeki | Information Technology | - |
| 16 | Mohammed Taher Mohammed Azzam | Information Technology | - |
| 17 | Eman elghareeb mohammed abd elmoety | Information Technology | - |
| 18 | Eman tarek yassin elmetwally | Information Technology | - |
| 19 | naira elazab saad elazab | Information Technology | - |
| 20 | mahmoud mohamed elsayed abdelsalam | Information Technology | - |
| 21 | eman elsaeed elsaeed abdelhay | Information Technology | - |