Participate in research on software, graphics, artificial intelligence, networks, parallel and distributed systems, algorithms, and theory THE ANSWERS TO TODAY'S BIG QUESTIONS - WHETHER IN ENGINEERING, PHYSICS, BIOLOGY, OR ECONOMICS, INEVITABLY HAVE COMPUTATION AT THEIR CORE. Researchers and professionals increasingly need their own version of the search engine: a way to take a flood of information and
organize and use it efficiently. Computer science is of course about creating code and running software, but it takes more than clever keystrokes to go from an idea to an end product or solution. It takes teams of people.
It takes active collaboration. It takes reaching out to other fields. It takes management as well as technical savvy. In other words, individuals with imagination and leadership. Our computer science curriculum is designed to offer students a great amount of flexibility—with time for related study and for outside opportunities, from sports to clubs to hobbies.
STUFF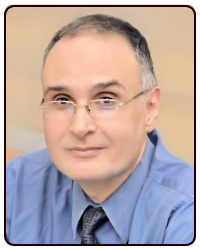 PROF. Samir El Desouky El Mogy
Professor of Computer Sciences
Head of Computer Science Department
| No. | Name | Department | Abstracts |
| --- | --- | --- | --- |
| 1 | Ahmed El Saied Tolba Alam El Din | Computer Science | - |
| 2 | Magdy Zakaria Rashad Mohamed | Computer Science | - |
| 3 | Tarek Tawfek Ahmed Hamza | Computer Science | - |
| 4 | Mohamed Ahmed El Hussieny Taha Ahmed Abou El Souod | Computer Science | - |
| 5 | Samir El Dousoky El Sayed El Mogy | Computer Science | 16 |
| 6 | Hamdy Souliman Abd El Ghafar Henedi | Computer Science | - |
| 7 | Ahmed El Hussien Mujahed | Computer Science | - |
| 8 | El Sayed Fouad Hassan Radwan | Computer Science | - |
| 9 | Omaima Mohamed Mohamed Nimer | Computer Science | - |
| 10 | Mohamed Fathy Hamed El Rahmawy | Computer Science | - |
| 11 | Sherihan Mohamed Mohamed Abou El Enien | Computer Science | - |
| 12 | Shahenda Salah El Din Hussien Hussien Sarhan | Computer Science | 1 |
| 13 | Mohamed Ahmed El Desouky Abd Rab El Naby | Computer Science | 15 |
| 14 | Aya Mohamed El Saied El Zoughby | Computer Science | 3 |
| 15 | Osama Mohamed Abd El Hamid Abou El Nasr | Computer Science | - |
| 16 | Rasha Hassan El Sayed Hassan Sakr | Computer Science | - |
| 17 | Ehab Mohamed Mahmoud Issa | Computer Science | - |
| 18 | Amal Ebrahim Ahmed Abou El Enien | Computer Science | - |
| 19 | Mohamed Hussien Hafez Handousa | Computer Science | - |
| 20 | Waleed Mohamed Mahmoud El Adrousy | Computer Science | - |
| 21 | Mohamed Hagag Mohamed Hassan Zayan | Computer Science | - |
| 22 | Sara El Sayed Youssif Mahmoud El Metwally | Computer Science | - |
| 23 | Eslam Fouad Mohamed Khalil | Computer Science | - |
| 24 | Mayada Tarek Hassan Mohamed El Ghayasha | Computer Science | - |
| 25 | Abd El Aziz Saied Mohamed Ahmed Abo Hamama | Computer Science | - |
| 26 | Asmaa Bahy El Din Saied Kasem | Computer Science | - |
| 27 | Amir Mohamed Nabil Saleh El Ghamry | Computer Science | - |
| 28 | Reem Abd El Salam Ali El Deeb | Computer Science | - |
| 29 | Omar Mohamed Abd El Hamid El Zeky | Computer Science | - |
| 30 | Zainab Awad Abd El Kareem | Computer Science | - |
| 31 | Zahraa Tarek Abd El Hamid El Maana | Computer Science | - |
| 32 | Asmaa Mohamed Ebrahim Gomaa El Ashry | Computer Science | - |
| 33 | Zzeanib Mahmoud Ali Rabea | Computer Science | - |
| 34 | ahmed elsaeed mohamed dawoud | Computer Science | - |
| 35 | dalia elwi ahmed ali elmelegy | Computer Science | - |
| 36 | Ahmed Taher Elsayed Abdelaziz shraf Eldin | Computer Science | - |